Lit Squared Cabinet - Single Faced
Lit Squared Cabinet - Single Faced
Single Face Rectangular Illuminated Cabinet Sign is lit through the faces with High Output LEDs. Face of the sign is held with a metal retainer which makes changing the sign face easy. The Sign will be built as a Rectangle with 4 Straight Sides. The LED power systems are built into the sign for a simple installation onto a structure. Built with all aluminum construction to be strong, rigid and lightweight. This product is sometimes referred to as a Box sign or a Light Box Sign.

All our signs carry the UL label and are tested and inspected by a UL certified inspector.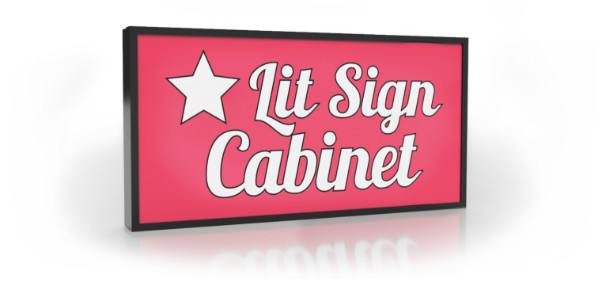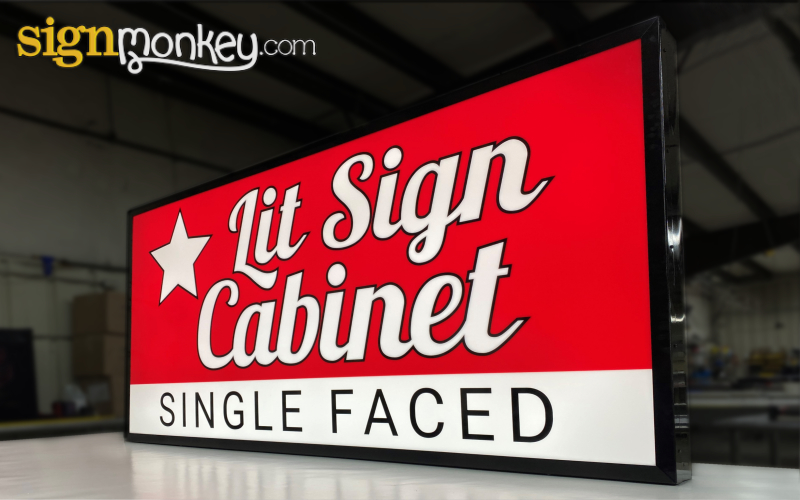 Lit Cabinet Sign Face
Our unique printing process creates a durable and highly fade resistant sign face graphics. At night our face colors are bright and vibrant, due to our printing method. All of our Full Color Printed faces have a scratch and UV protecting clear-coat. We use Polycarbonate Plastic (bullet proof glass) for our sign faces to eliminate the chance of breakage in shipping and installation.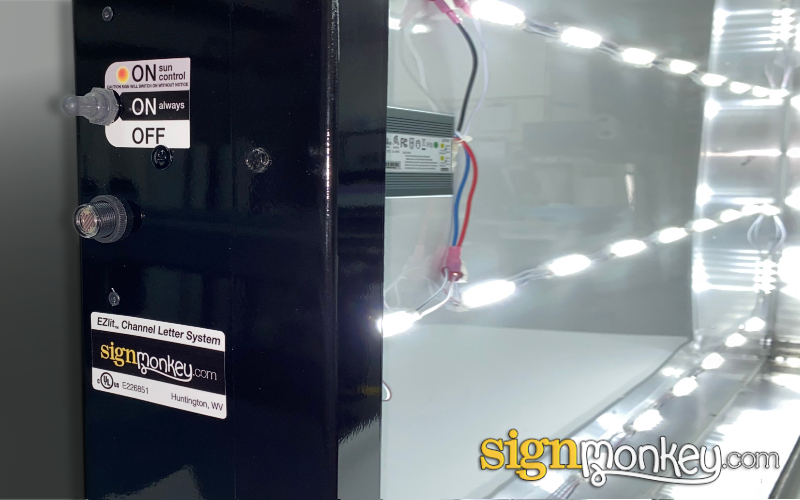 LED Lit Sign Cabinet Illumination & Power
Weatherproof, high output LEDs are pre-installed inside the Sign Cabinet. Safe 12 volt system is 100% complete and ready to install, there is nothing more to buy. Our Exclusive 3 way power switch provides On, Off, and On with Sun Control. When Sun Control is selected, your sign will automatically turn on at night and off during the day.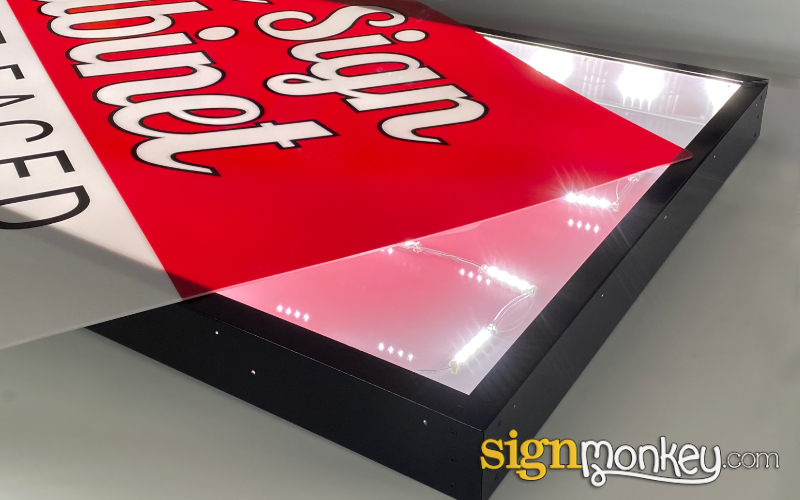 Lit Sign Cabinet Construction
Constructed entirely of corrosion resistant aluminum for durability. Completely weatherproof for many years of exterior service. Sign will have a UL label and inspection during construction. In addition we also conduct a 32 point quality control inspection during manufacturing. Cabinets are built of heavier metal than our Lit Shape Signs or channel letters.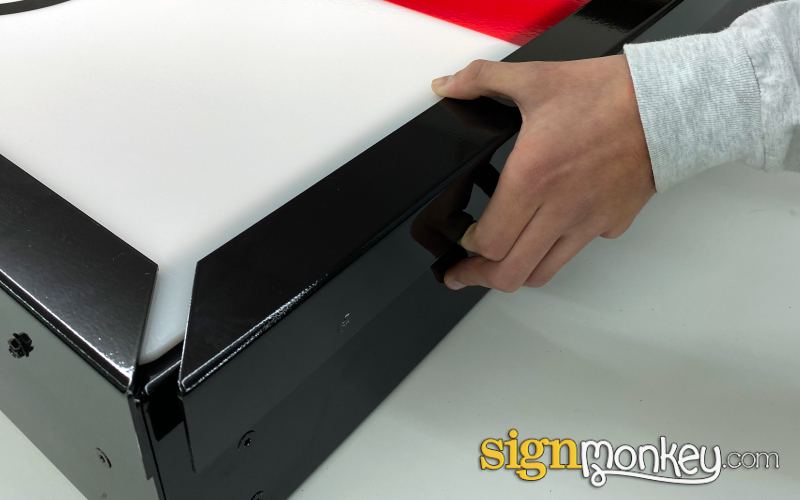 Lit Sign Metal Face Retainer
The face retaining trim is designed to hold the face in place but also allow easy removal of the face for installation or maintenance. Retaining Trim will be painted the same color as the cabinet and is 1.75" wide.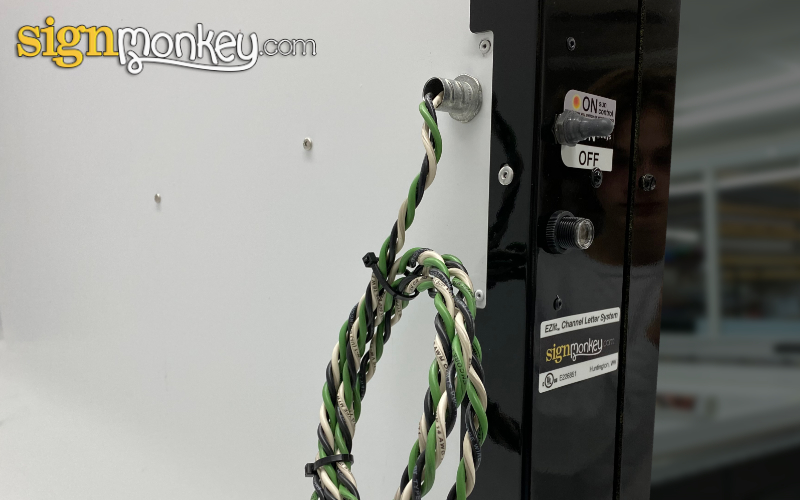 Simple 3 Wire Installation
The power installation for our Lit Cabinet Signs is a simple 3 wire connection. This is the same as installing any light fixture. All of the electronics that power the LEDs are preinstalled for a fast and easy installation.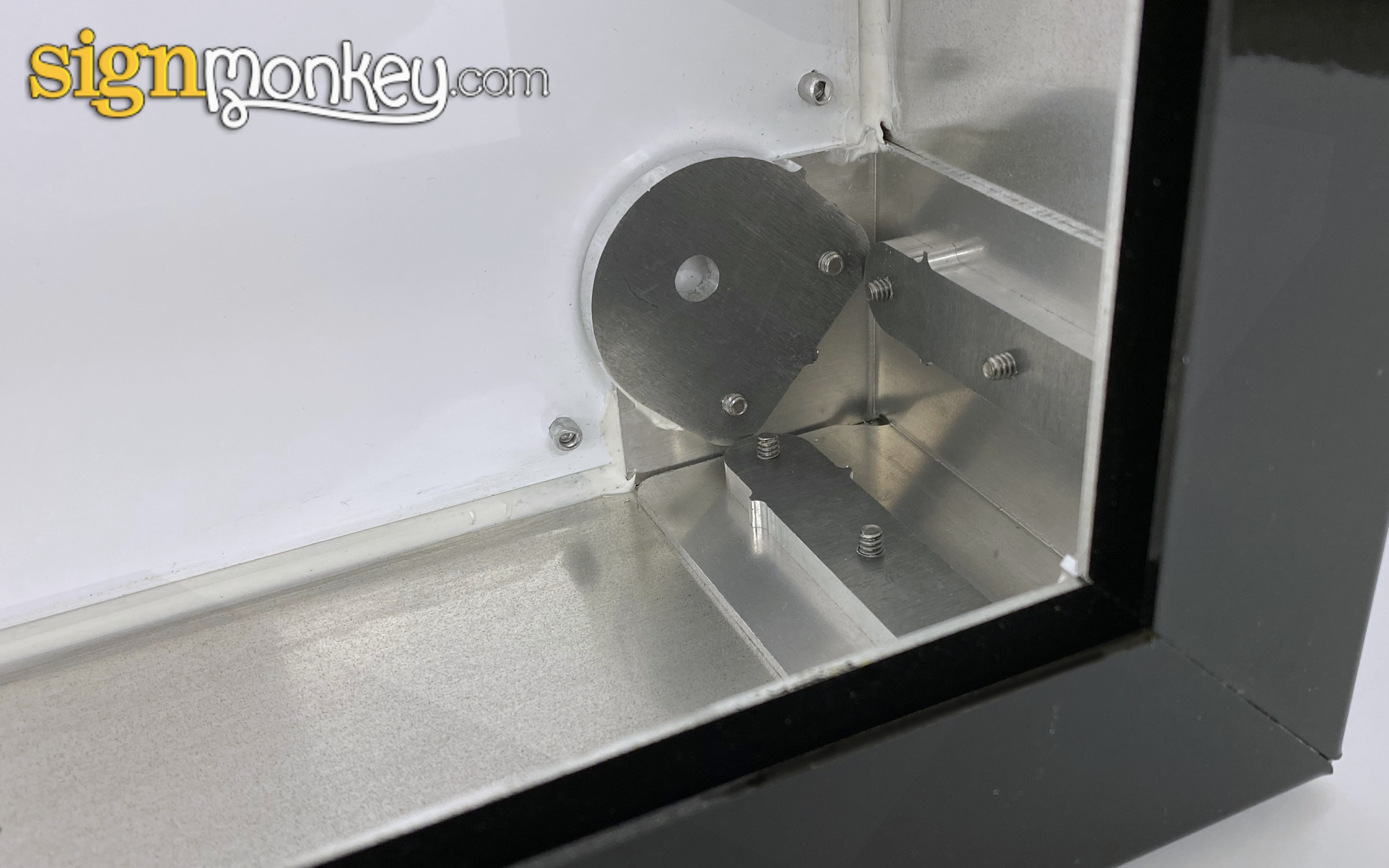 Lit Cabinet Mounting (method 1)
There are two easy methods of mounting our Lit Cabinet Signs. All cabinets will have four internal reinforced mounting points, one in each corner. To use this system the sign face will simply slide out. Removing the face, will allow screws to be installed into the four corner mounting points. Signs include a full size Installation Pattern that will show all the fastener locations.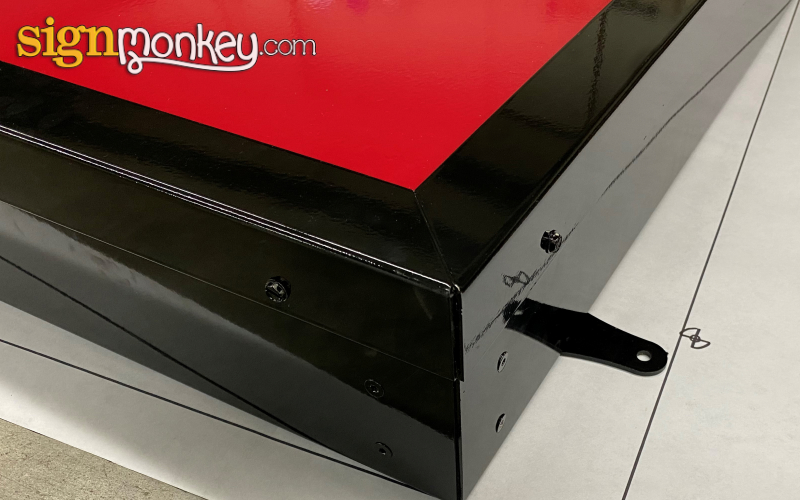 Lit Cabinet Mounting (method 2)
Optionally we can provide Mounting Clips on the outside of the sign. This will make it possible to install the sign without removing the printed face. Signs include a full size Installation Pattern that will show all the mounting points for pre-drilling mounting and the power hole. This makes the installation so simple that anyone that can install a ceiling fan, can install this sign.
Easy Installation
Our products are designed to be installed by people with limited electricalexperience. UL labeled and National Electric Code Approved
Charles Coooper
"I did it all myself and i saved more than 50% than it would have cost from my local sign company. Seriously!!"
Austin
"We honestly saved around $3000 dollars by using sign monkey and installing ourselves!"
Shipping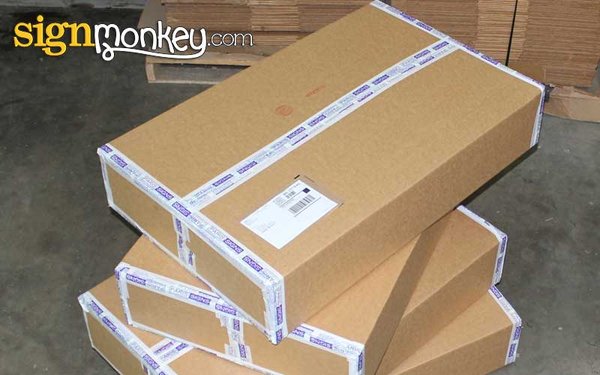 UPS Shipment
All products small enough to fit into a box are shipped via UPS. We pack multiple items in each box and pack them to arrive in perfect condition. Products are shipped ready to install. You simply take the boxes to the installation site, carefully remove them from the packing and install. There is no assembly required.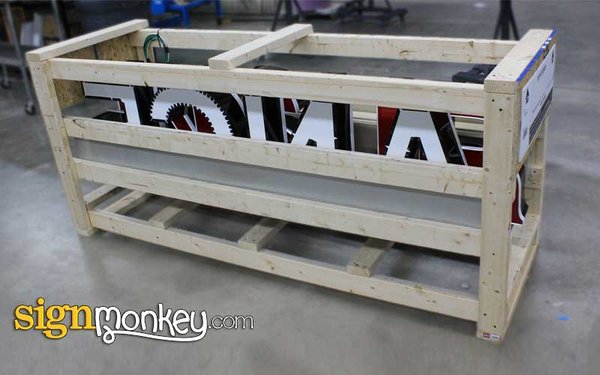 Truck Freight Shipping
When a product is to big to ship UPS, we will ship your item via truck freight. Your product will be ready to install directly from the crate. You simply take the crate to the installation location, unpack it, and install it onto the wall. Our crate is designed for your item to arrive in perfect condition.